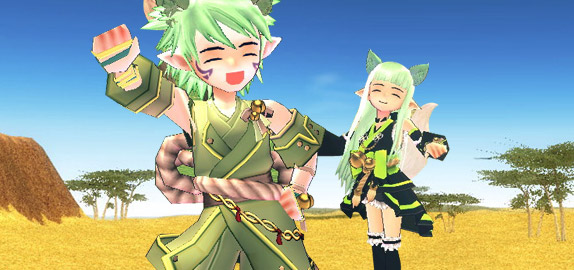 Mabinogi is a 3D Fantasy MMORPG with unique anime styled graphics. Mabinogi is a one of a kind game with an endless list of unique features. Players can compose music, design clothes, milk cows, get a part time job and much more. Characters also grow older as time goes by but can be 'reborn' through the use of a special item.
Tired of playing the same MMORPG over and over again but with different titles? Well than, Mabinogi may just be the game for you! Based loosely on Welsh mythology, Mabinogi offers a one of a kind MMORPG environment. The art style is different to say the least — characters are hand painted and the game world is very bright and cartoony. The Game's subtitle is 'Fantasy Life' and it is fitting. Mabinogi is not just another grinder, the level of depth and amount of available activities is truly breath taking. Below is a short list of available activities, for more information read our full review!
Befriend NPCs - The NPCs in Mabinogi remember their interaction with each player. Visit a NPC often and do favors for them to build a stronger bond.
Part Time Jobs - Many NPCs have part time job positions that need filling. Work hard and earn extra gold while building closer bonds.
Design clothes - Sheer sheep, spin threads, weave fabrics and tailor your own clothes. Players can also milk cows, mine ore, chop trees and much more.
Compose Music - Write your own original music or compose video game classics from Zelda or Final Fantasy and play them for others. You can even place a donation box and earn some coins!
Go Fishing - Take a break from the grind and go fishing. You can either manually fish or let your character relax on his own.
Start Cooking - Mix and match hundreds of ingredients to prepare exciting meals. Eating well helps develop skills so get cooking!
Earn Titles - Mabinogi contains 100+ unlockable titles such as 'Golem Slayer' or 'The Wise.'
PvP:
Faction Based / Arena
Pros: +Unique graphic style. +Skill based progression. +Characters grow older. +Lots of rewarding quests. +Great game music. +Plenty of extras: write music, sheer sheep, etc.
Cons: -Many useful items are cash shop only. -Boring and repetitive dungeon designs. -Awkward combat.